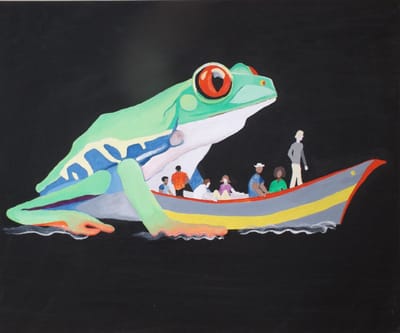 My style could be placed at the margin of the New-Figurative trend, in tight continuation with the historical experience and language of the Pop-Art, interpreted in an ironic, kitsch and folk way. Starting with the calligraphic and obsessive repetition of a unique tribal sign, taken as a mark of the "Wild Side" in the Post-Modern culture, my painting progressively developed toward a visionary and suggestive zoomorphism, moving between the classical fairy-tale and the modern language of comics and cartoons, finally arriving to a dreamlike and participative vision of the imaginative animal's world. My painting has passed through various ironic, symbolic and emotional narrations, involving, from time to time, various characters: from Leopards to Franciscans Mice, from Sacred Cows to Gamecocks, until the Great Landscape Guardian-Birds and the Ferry-Frogs.
MI visión pictórica se puede colocar a los margenes de las tendencias de la Nueva Figuración, en estricta continuidad con la experiencia histórica y el lenguaje del Pop Art, interpretado en una clave kitsch, irónica y visiblemente popular. A partir de la repetición caligráfica y obsesiva de un único signo tribal, o sea la mancha de la piel del leopardo, asumido como la marca del "lado salvaje" de la cultura post-moderna, mi pintura evoluciona hacia un zoomorfismo visionario y alusivo, que se mueve entre el fabulismo clásico y el moderno lenguaje de los cómics y de los dibujos animados, para llegar a una visión onírica e que participa intensamente del fantasioso mundo animal. Mis cuadros recorren narraciones irónicamente simbólicas e íntimamente afectivas que involucran sucesivamente a distintos personajes: del Leopardo a los Ratones Franciscanos, de las Vacas Sagradas a los Gallos de Combate, hasta a los grandes Pájaros Vigilantes del Paisaje y a las Ranas Transbordadoras.
La mia visione pittorica si può collocare ai margini delle recenti tendenze Neo-Figurative, in stretta continuità con l'esperienza storica ed il linguaggio della Pop Art, assunta in una chiave kitsch, ironica e manifestamente popolare. Partendo dalla ripetizione calligrafica ed ossessiva di un unico segno tribale, assunto come un marchio del cosidetto "lato selvaggio" della cultura post-moderna, la mia pittura evoluziona gradualmente verso uno zoomorfismo visionario ed allusivo, che si muove fra il fabulismo classico e il moderno linguaggio dei fumetti e dei cartoni animati, approdando infine ad una visione onirica ed intensamente partecipativa del fantasioso mondo animale. I miei quadri attraversano narrazioni ironicamente simboliche ed intimisticamente affettive che, di volta in volta, coinvolgono diversi personaggi: dal Leopardo ai Topi Francescani, dalle Vacche Sacre ai Galli da Combattimento, fino ai grandi Uccelli Guardiani del Paesaggio ed alle Rane Traghettatrici.